We saw this play as one of the options of Probus Rendezvous at the Court theatre in Christchurch.
It was very interesting to see a Kiwi play in New Zealand.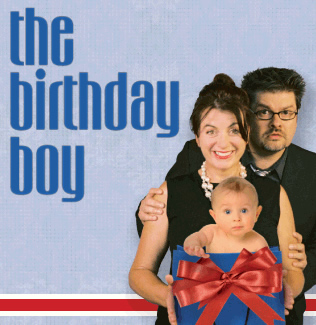 The author of this review summarises the play as follows.



Unclouded joy prevails at the first. It is David Williams' 40th and all is right in his world. To cap it off, he and his wife Kathy, an author on the rise, announce to their best friends Stuart Marshall and Elizabeth Marshall- Clarke, that the next generation is on its way. Ecstatic determination that the "baby will fit in" finds a knowing response from the audience. As so often happens, the grandmother steps in to keep the domestic scene intact, but bringing too another decided voice, another complication.

Little by little, tensions build up. From the perspective of the onlooker they are mostly deliciously funny. Basically well intentioned and rational human beings find themselves behaving and speaking in desperate ways. Some of the best moments of the play ignite when people are trying to say the right thing but inadvertently choose the worst. The audience is constantly amused and sometimes startled as a seemingly innocuous remark triggers a flare of resentment or anger.

Thus the years rattle by, pace flagging a little before the breather of the interval (too much talking), but picking up again in the second half as lives unravel and the implications of choice arrive before us.



The structure of the play is unusual as described by the Court Theatre website:


Rather than starting in the past and "catching up", THE BIRTHDAY BOY begins in present-day Christchurch and moves into a future that includes video-phone walls and Afghanistan as a tourist destination. The design team relished the opportunity to incorporate new technology into the show, including a video projection system used for the first time at The Court Theatre.

With a futuristic set and clever structure, (Stephen)Ray (the director) believes THE BIRTHDAY BOY remains at heart a comedy about "families – how friends become your family, and how families can fall apart." ... an entertaining look at how life never turns out according to plan ...


Although the play was generally well performed, there was an occasional stumble over the words. The set had an interesting, severe perspective, with back projection indicating the different locations.

This is the first play we have seen by Carl Nixon, who is a writer to watch.

All in all, a very pleasant way to spend an evening in beautiful Christchurch.